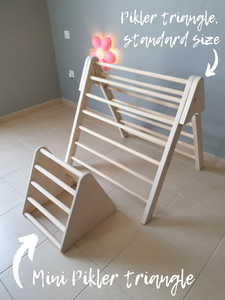 Pikler Mini Triangle
Regular price Dhs. 307.00 Sale
The Mini Climbing Triangle is the little sister of our foldable Pikler triangle, which means you can neatly tuck the mini inside when it isn't being used. The Mini Triangle is a multi-functional toy that will bring out the best in your little ones, mastering new skills of climbing up and down stairs and creating a fun environment for movement and imagination. It encourages children to climb and discover through their own experience developing gross motor skills, strength and confidence. 
Dimensions: L55 x W50 x H50 cm
Finish: All natural unfinished wood or protected with a thin layer of clear lacquer (Indoor use. If used outdoors, please do not store the items outdoors, always keep this toy dry)
Delivery: Fully assembled, delivery available to Dubai, Abu Dhabi (Al Ain not included), Sharjah, Ajman, UAQ, RAK
Age recommendation: starting 9 months
Current lead time: 2 to 3 weeks
Compatible with the following other climbing range products: ladder, ramp
Safety instructions: Climbing equipment should always be placed on a soft but sturdy play surface, never concrete or hard ground. Never leave your children unsupervised.  We suggest letting them explore freely, but always be within a safe distance to assist if required.
Please also explore our other Pikler climbing range products (Pikler triangle, ladder, ramp, cube).
All prices displayed include 5% VAT.